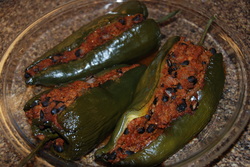 The poblanos looked so good at the grocery store this week that I was inspired to try my hand at stuffing them. They are such a beautiful thick-skinned pepper and easy to work with.

Here's the ingredients you'll need:
4 Poblano Peppers
1 lb ground sirloin or ground chicken breast
1 16 oz can black beans, drained and rinsed
1 Tbl Olive Oil
1/2 sweet onion, diced (any onion should be fine)
3 large cloves of garlic, crushed
1 6oz can tomato paste
1/2 Tbl garlic powder
1/4 tsp ground red pepper
1/8 tsp paprika
1/2 tsp cumin
2 chopped jalapenos (seeds & membranes removed)
1 6oz can of diced green chiles
sea salt to taste
coarse ground pepper to taste

Optional Topping:
Plain Greek yogurt
Fresh cilantro, chopped

Preheat oven to 350 degrees.
Heat up the oil in your skillet.
Add the chopped jalapenos and diced onions and cook until the onions are translucent.
Add the garlic and cook another minute.
Add the meat and cook until browned.
Add tomato paste, green chiles and the rest of the spices.
Add the black beans.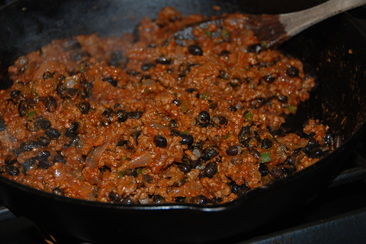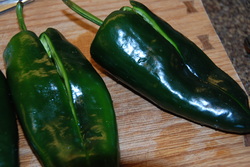 While that is cooking together, get your poblanos ready. Cut down one side of
the pepper as shown here and pull out the seeds while rinsing.
Stuff them with the meat mixture.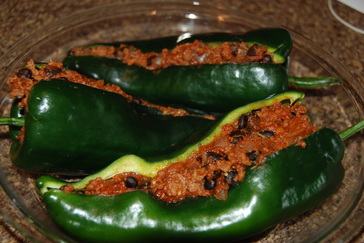 Place them in a baking dish and cover with foil. Bake for 25-30 minutes or until the pablanos begin to soften and the skin blisters.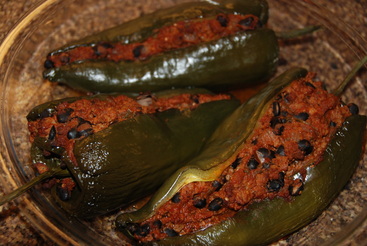 Top them with a dollop of plain Greek yogurt and a sprinkle of fresh chopped cilantro and you're ready to eat! They were great leftover too.