As I said in the introduction, my camera is with me at all times. I am thoroughly entertained by following the animals on this ranch through their day, capturing their tales in photographs. I am enjoying writing down their stories for children and illustrating the books with pictures I've taken.

I want kids to be able to see horses just being horses - running, swimming, napping, rolling, nipping - you name it! I have found very few children's books that present them in this way. I've also included a glossary in the back of each book, introducing children to some simple equine terms.

Tank and Jag, our Pembroke Welsh Corgis, have their first book out too. No doubt there will be many to follow - they are always up to something!
Party In The Pasture

The first in the series, this is the story of Jackson's birthday party. It was a hot summer day and the first time baby Rey and baby Kit had been allowed to join the herd. The curious group followed the foals every where and were SO excited to show their new family members how great life on the ranch can be. With the exception of the first two pages, all the photos were taken that day, Jackson's actual first birthday. They played follow the leader, had a splashing contest, ran races, and played tag. They even danced! It turned into quite a celebration for Jackson.

---
Mommy, Why Am I Not Painted?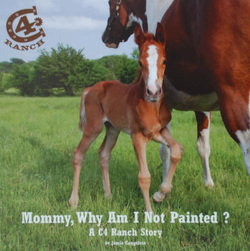 This story explores the ways that being different from the herd make Derby special. (She was the first foal born on the ranch and we were a bit surprised to find a little solid sorrel horse hiding behind her mom that morning!) Her dam and sire are both colorful American Paint horses. This book illustrates how little this outward difference is noticed by those around her. Instead it's other traits that make her special - her beautiful mane, her sense of humor, her fast legs, and her ability to make and keep friends. Derby's mom Belle helps her to see how very special she is no matter what color coat she is wearing. This book was inspired by the onset of the American Paint Horse Association recognizing these beautiful creatures known as Solid Paint-Bred horses.
---
---
Tank and Jag's Snow Day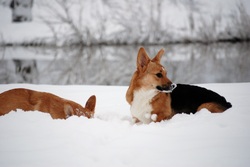 This is a story about 2 little corgi boys that are thrilled to get a snow day off from school. They spend most the day in the pasture with the horses playing games but are in for a surprise adventure later when the horses are no where to be found and night is falling.
---